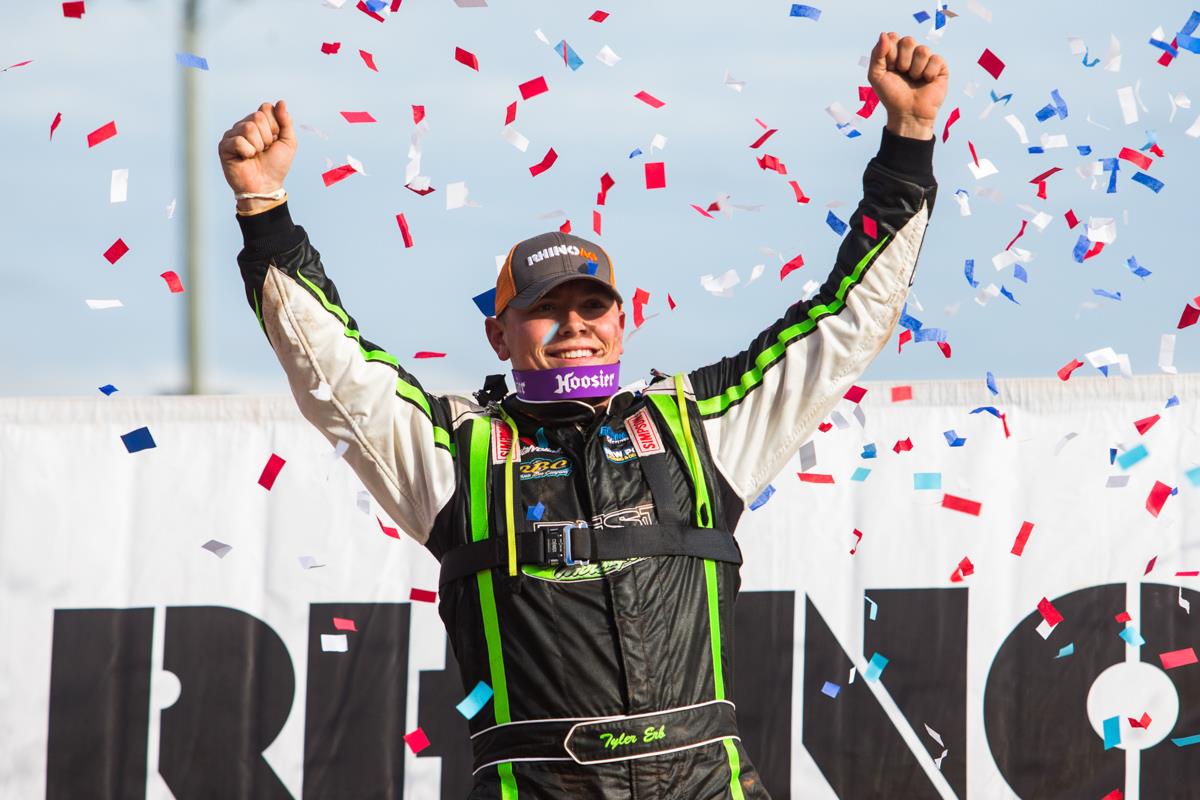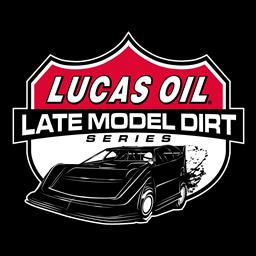 2/2/2019
Lucas Oil Late Model Dirt Series
---
Tyler Erb Victorious in Best Performance Debut
WAYNESVILLE, GA (February 2, 2019) – Tyler Erb, in his debut as driver of the Best Performance Motorsports #1, made his way to victory lane in the Lucas Oil Late Model Dirt Series season opener at Golden Isles Speedway.
Erb took the lead from Hudson O'Neal on lap 13 and held the point to claim the Rhino Ag Super Bowl of Racing presented General Tire opener.
Earl Pearson Jr. tried to track down Erb in the final ten laps of the race, but settled for second in the Lucas Oil Products, Clements-powered, Black Diamond Chassis for Ronnie and Terri Stuckey. Jonathan Davenport was third in the Nutrien Ag Solutions, Longhorn for Lance Landers Motorsports.
Completing the top five were Josh Richards and Brandon Sheppard.
Hudson O'Neal, who set a new track record in qualifying on Friday night, started from the pole and led the first 12 laps of the race. O'Neal held the point until he slipped a bit in turn two allowing three drivers to get by him. O'Neal recovered and made his way back to second until he got into the turn one wall, ending his race on lap 27.
Erb then set a steady pace for the remainder of the final 23 laps. Erb encountered lap traffic with ten laps to go. Pearson cut Erb's nearly three second lead down to just five-car lengths at the checkered flag.
Erb was ecstatic in Lucas Oil Victory Lane. "I want to thank Eric and Kelly Brock and Randall Edwards for having faith in me to drive their car. This is a great way to start the season! There is so much tough competition here. I was a little worried in traffic, but those guys gave me plenty of room to get by. It was fast today, for sure. I want to thank Wayne Childress of New Point Lighting and Design, and Billy Franklin for helping us out this year."
Pearson, gave the winner his best shot at the end, but ran out of laps. "I figured I would have to run the top to catch him and we were. We just ran out of time and laps. I was hoping that Davenport would clean off the top for me, but overall it was a good start to the season for us and we will come back tonight and hopefully be one spot better."
Davenport, the two-time and defending series champion, said he should have gone to the top earlier in the race. "I waited too long to get there. Once we were there the car was really good. I tried to follow Earl [Pearson] up and catch him [Erb], but he was really good today. We have had a lot of success here. Maybe tonight we can pick up the win."
The winner's Best Performance Motorsports, Durham-powered Rocket Chassis is sponsored by: Roberts Bee Company, New Point Lighting and Design, Bazell Race Fuels, Sunoco, Franklin Enterprises, Valvoline, Keyser, and KBC Graphix.
Completing the top ten were Don O'Neal, Scott Bloomquist, Devin Moran, Chase Junghans, and Dennis Erb Jr.
Lucas Oil Late Model Dirt Series
Race Summary
Friday and Saturday, February 1st and 2nd, 2019
Rhino Ag Super Bowl of Racing presented by General Tire
Golden Isles Speedway – Waynesville, Ga.
Miller Welders Time Trials
Fast Time Group A: Hudson O'Neal / 14.864 seconds (overall)
Fast Time Group B: Brian Shirley / 14.944 seconds
Penske Race Shocks Heat Race #1 Finish (10 Laps, Top 4 Transfer): Hudson O'Neal, Brandon Sheppard, Brandon Overton, Tim McCreadie, Jason Jameson, Billy Moyer, Jr., Dennis Erb, Jr., Allen Murray, Austin Rettig, Jason Fitzgerald, Ryan King
FK Rod Ends Heat Race #2 Finish (10 Laps, Top 4 Transfer): Earl Pearson, Jr., Jonathan Davenport, Jimmy Owens, Chase Junghans, Matt Cosner, Gregg Satterlee, Colton Flinner, Coleby Frye, Colton Horner, Ivedent Lloyd, Jr.
Simpson Race Products Heat Race #3 Finish (10 Laps, Top 4 Transfer): Josh Richards, Devin Moran, Brian Shirley, Devin Gilpin, Jeff Mathews, Kerry King, Shanon Buckingham, Don O'Neal, Brian Connor, Blair Nothdurft, Mark Whitener-DNS
Lucas Oil Products Penetrating Oil Heat Race #4 Finish (10 Laps, Top 4 Transfer): Tyler Erb, Chris Ferguson, Kyle Bronson, Scott Bloomquist, Justin Williams, Steven Roberts, Joel Callahan, Stormy Scott, Ray Cook, Blake Spencer
Lucas Oil Products Red "N" Tacky Spray Grease B-Main #1 Finish (12 Laps, Top 3 Transfer): Jason Jameson, Dennis Erb, Jr., Matt Cosner, Colton Flinner, Jason Fitzgerald, Ryan King, Billy Moyer, Jr., Allen Murray, Austin Rettig, Coleby Frye, Gregg Satterlee, Colton Horner, Ivedent Lloyd, Jr.-DNS
FAST Shafts B-Main #2 Finish (12 Laps, Top 3 Transfer): Shanon Buckingham, Don O'Neal, Stormy Scott, Justin Williams, Blake Spencer, Kerry King, Blair Nothdurft, Joel Callahan, Jeff Mathews, Steven Roberts, Ray Cook, Brian Connor, Mark Whitener
Lucas Oil Feature Finish (50 Laps):
FINISH START CAR # DRIVER NAME HOMETOWN EARNINGS
1 4 1T Tyler Erb New Waverly, TX $12,000
2 3 1 Earl Pearson, Jr. Jacksonville, FL $5,500
3 7 49 Jonathan Davenport Blairsville, GA $3,600
4 2 14 Josh Richards Shinnston, WV $2,750
5 5 1S Brandon Sheppard New Berlin, IL $2,250
6 20 5 Don O'Neal Martinsville, IN $1,800
7 16 0 Scott Bloomquist Mooresburg, TN $1,500
8 6 1M Devin Moran Dresden, OH $1,300
9 15 18J Chase Junghans Manhattan, KS $1,200
10 19 28 Dennis Erb, Jr. Carpentersville, IL $1,100
11 12 40B Kyle Bronson Brandon, FL $1,075
12 13 39 Tim McCreadie Watertown, NY $1,050
13 11 20 Jimmy Owens Newport, TN $1,025
14 9 2 Brandon Overton Evans, GA $1,000
15 14 1G Devin Gilpin Columbus, IN $1,000
16 21 66c Matt Cosner Ridgeley, WV $1,000
17 17 12J Jason Jameson Lawrenceburg, IN $1,000
18 1 71 Hudson O'Neal Martinsville, IN $1,100
19 10 3s Brian Shirley Chatham, IL $1,000
20 24 1Gk Ryan King Seymour, TN $1,000
21 18 50 Shanon Buckingham Morristown, TN $1,000
22 22 2s Stormy Scott Las Cruses, NM $1,000
23 8 22F Chris Ferguson Mount Holly, NC $1,000
24 23 22 Gregg Satterlee Indiana, PA $1,000
Race Statistics
Entrants: 42
Lap Leaders: Hudson O'Neal (Laps 1 – 12); Tyler Erb (Laps 13 – 50)
Wrisco Feature Winner: Tyler Erb
Margin of Victory: 0.961 seconds
Cautions: Devin Moran (Lap 1); Stormy Scott (Lap 12); Stormy Scott (Lap 17); Tim McCreadie (Lap 19); Tim McCreadie, Jimmy Owens (Lap 20); Brian Shirley, Ryan King, Jason Jameson (Lap 20); Hudson O'Neal (Lap 27)
Series Provisional: Gregg Satterlee
Miller Welders Fast Time Provisional: Ryan King
Series Emergency Provisionals: n/a
Golden Isles Speedway Provisional: n/a
Optima Batteries Hard Charger of the Race: Don O'Neal (Advanced 14 Positions)
Midwest Sheet Metal Spoiler Challenge Point Leader: Jonathan Davenport
Allstar Performance Power Move of the Race: Earl Pearson Jr.
Sunoco Race for Gas Highest Finisher: Tyler Erb
Eibach Springs Rookie of the Race: n/a
COMP Cams Engine Builder of the Race: Durham Racing Engines
Ohlins Shocks Chassis Builder of the Race: Rocket Chassis
Outerwears Crew Chief of the Race: Randall Edwards (Tyler Erb)
Dirty Girl Racewear Fastest Lap of the Race: Hudson O'Neal (Lap #3 – 14.781 seconds)
Hot Rod Processing Tough Break of the Race: Hudson O'Neal
STEEL-IT Most Laps Led: Tyler Erb (38 Laps)
PFC Brakes Pole Award: Hudson O'Neal
Time of Race: 41 minutes 05 seconds
---
Submitted By: Jeremy Shields
Back to News