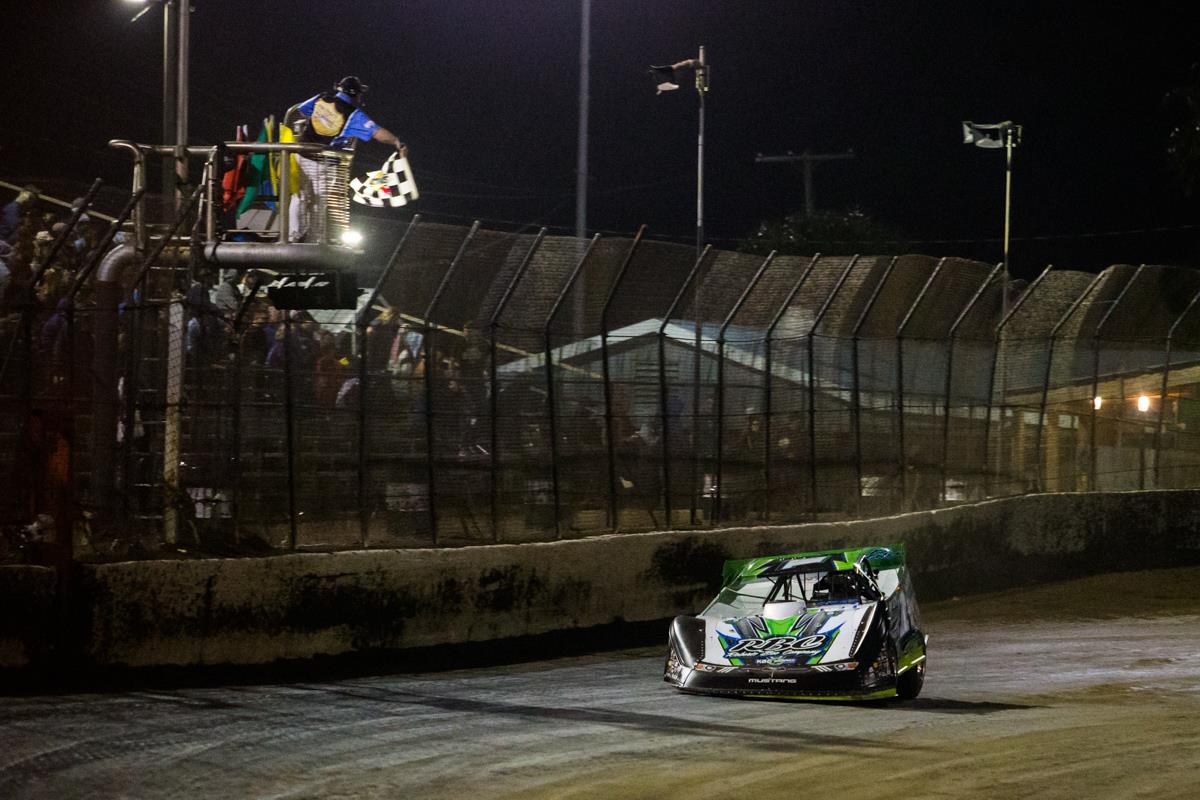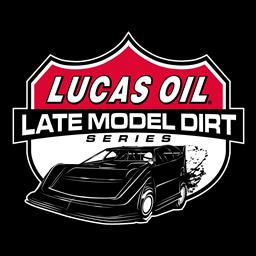 2/5/2019
Lucas Oil Late Model Dirt Series
---
Tyler Erb Continues Early Season Hot Streak
TAMPA, FLA (February 5, 2019) – Tyler Erb continued his recent hot streak as he claimed his third victory in only a four-race season thus far on the Lucas Oil Late Model Dirt Series tour.
Erb dominated the event, leading every lap of the Wrisco Industries Winternationals presented by Lucas Oil on Tuesday night at East Bay Raceway Park.
Erb started on the outside of the front row in his Best Performance Motorsports entry and pulled away from the pack at the start of the 30-lap main event. His torrid pace was only slowed by a single caution on lap eight.
Earl Pearson Jr. started alongside Erb on the front row. After dropping back as much as a full straightaway at time, he regained his momentum over the second half of the race to bring his Ronnie and Terri Stuckey-owned, Lucas Oil, Black Diamond Chassis home in second. Dennis Erb Jr. earned his best finish of the year by taking third in his Vomac Truck Sales, Rocket. Brandon Sheppard came home in fourth, followed by Jimmy Owens in fifth.
Kyle Bronson charged through the field early on, advancing from the ninth starting spot to take control second from Pearson on lap 14. Bronson then held the runner-up spot until Pearson forged ahead soon after. Pearson started to close the gap on Erb as the youngster approached heavy lapped traffic. Pearson chopped several seconds off of the Texan's lead, but Erb skillfully maneuvered through traffic to elude the challenge of Pearson.
"I got high in turn four after I was signaled that my lead was getting smaller and smaller. I made the decision to go to the outside to pass cars after seeing [Brandon] Overton do it in front of me. Going to the outside gave us a little leeway and some space to breathe," said the 22-year-old Erb in Lucas Oil Victory Lane.
"Like I said last night, driving for this team has been a dream come true. I am probably one of the happiest people in the world right now. I am lucky enough to be able to do this for a living. I just couldn't imagine being with anybody better than this team at the Best [Performance Motorsports] shop. I am really thankful for this opportunity and I am looking forward to the next four nights."
The current Lucas Oil Late Model Dirt Series point leader, Earl Pearson Jr., survived a terrific battle for second-place. "We restarted on the high-side after the caution. All-in-all it was a good night for us. The track was quite a bit different tonight. He [Erb] is really rolling through the corners well, right now. We can catch him in traffic, but in clean air, he is just a little bit better than us right now."
Six-time East Bay Winternationals winner, Dennis Erb Jr., had his best finish of the year with a third- place run. "We have kind of struggled here the past few years. Hopefully things keep going in this direction; we have our car running pretty good right now. We need to get it dialed in a little bit better as the week goes on. The race track is in really good condition, we are able to move around a lot. You have to get the set-up right on these cars to get around here."
The winner's Eric and Kelly Brock-owned, Best Performance Motorsports Rocket is powered by a Durham Racing Engine and sponsored by: Roberts Bee Company, New Point Lighting and Design, Bazell Race Fuels, Sunoco, Franklin Enterprises, Valvoline, Keyser, and KBC Graphix.
Completing the top ten were Brian Shirley, Josh Richards, Kyle Bronson, Billy Moyer Jr., and Tim McCreadie.
Lucas Oil Late Model Dirt Series
Race Summary
Tuesday, February 5th, 2019
Wrisco Industries Winternationals presented by Lucas Oil
East Bay Raceway Park – Tampa, Fla.
Miller Welders Time Trials
Fast Time Group A: Stormy Scott / 14.542 seconds
Fast Time Group B: Tyler Erb / 14.479 seconds (overall)
Penske Race Shocks Heat Race #1 Finish (10 Laps, Top 3 Transfer): Earl Pearson, Jr., Dennis Erb, Jr., Josh Richards, Stormy Scott, Brandon Overton, Jason Jameson, Scott Bloomquist, Joel Callahan, Zack Dohm, Bob Geiger
FK Rod Ends Heat Race #2 Finish (10 Laps, Top 3 Transfer): Brandon Sheppard, Kyle Bronson, Tim McCreadie, Justin Williams, Tyler Carpenter, Austin Rettig, Jeff Mathews, Blair Nothdurft, Devin Gilpin
Simpson Race Products Heat Race #3 Finish (10 Laps, Top 3 Transfer): Shanon Buckingham, Brian Shirley, Jonathan Davenport, Terry Casey, Chase Junghans, Colton Horner, Freddie Carpenter, Michael Lake, John Tweed
Lucas Oil Products Penetrating Oil Heat Race #4 Finish (10 Laps, Top 3 Transfer): Tyler Erb, Colton Flinner, Gregg Satterlee, Don O'Neal, Mike Benedum, Greg Oakes, Ryan King, Devin Dixon, Joe Denby, Chuck Hummer
Wrisco Industries Heat Race #5 Finish (10 Laps, Top 3 Transfer): Jimmy Owens, Tanner English, Hudson O'Neal, Blake Spencer, Austin Hubbard, Matt Cosner, Dan Stone, Jonathan Rowan, Rusty Schlenk
GEICO Heat Race #6 Finish (10 Laps, Top 3 Transfer): Morgan Bagley, Billy Moyer, Jr., Billy Moyer, Devin Moran, Allen Murray, Tim Dohm , Vic Hill, Joey Moriarty, Kerry King
Lucas Oil Products Red "N" Tacky Spray Grease B-Main #1 Finish (12 Laps, Top 2 Transfer): Stormy Scott, Brandon Overton, Justin Williams, Austin Rettig, Chase Junghans, Colton Horner, Jeff Mathews, Jason Jameson, Freddie Carpenter, Blair Nothdurft, Michael Lake, Tyler Carpenter, John Tweed, Terry Casey, Joel Callahan, Bob Geiger, Scott Bloomquist-DNS, Devin Gilpin-DNS, Zack Dohm-DNS
FAST Shafts B-Main #2 Finish (12 Laps, Top 2 Transfer): Don O'Neal, Devin Moran, Austin Hubbard, Blake Spencer, Greg Oakes, Mike Benedum, Dan Stone, Allen Murray, Devin Dixon, Ryan King, Vic Hill, Rusty Schlenk, Jonathan Rowan, Kerry King, Matt Cosner, Chuck Hummer, Tim Dohm , Joey Moriarty, Joe Denby
DirtOnDirt.com Strawberry Dash Finish: Austin Hubbard, Blake Spencer, Justin Williams, Vic Hill, Austin Rettig, Jason Jameson, Dan Stone, Greg Oakes, Blair Nothdurft, Rusty Schlenk, Joel Callahan, Michael Lake, Colton Horner, Chuck Hummer, John Tweed, Freddie Carpenter, Mike Benedum, Allen Murray
Lucas Oil Feature Finish (30 Laps):
FINISH START CAR # DRIVER NAME HOMETOWN
1 2 1T Tyler Erb New Waverly, TX
2 1 1 Earl Pearson, Jr. Jacksonville, FL
3 7 28 Dennis Erb, Jr. Carpentersville, IL
4 3 1S Brandon Sheppard New Berlin, IL
5 4 20 Jimmy Owens Newport, TN
6 11 3s Brian Shirley Chatham, IL
7 13 14 Josh Richards Shinnston, WV
8 9 40B Kyle Bronson Brandon, FL
9 12 21 Billy Moyer, Jr. Batesville, AR
10 15 39 Tim McCreadie Watertown, NY
11 17 49 Jonathan Davenport Blairsville, GA
12 16 71 Hudson O'Neal Martinsville, IN
13 10 116 Tanner English Benton, KY
14 22 1M Devin Moran Dresden, OH
15 6 14m Morgan Bagley Gladewater, TX
16 18 9 Billy Moyer Batesville, AR
17 20 5 Don O'Neal Martinsville, IN
18 21 2 Brandon Overton Evans, GA
19 14 22 Gregg Satterlee Indiana, PA
20 5 50 Shanon Buckingham Morristown, TN
21 8 48 Colton Flinner Allison Park, PA
22 26 11H Austin Hubbard Bridgeville, DE
23 24 18J Chase Junghans Manhattan, KS
24 19 2s Stormy Scott Las Cruses, NM
25 23 1G Devin Gilpin Columbus, IN
26 25 25B Mike Benedum Salem, WV
Race Statistics
Entrants: 56
Lap Leaders: Tyler Erb (Laps 1 – 30)
Wrisco Feature Winner: Tyler Erb
Margin of Victory: 1.792 seconds
Cautions: Stormy Scott (Lap 8)
Miller Welders Fast Time Provisionals: Devin Gilpin, Chase Junghans
Wrisco Industries Winternationals Provisional: Mike Benedum
DirtOnDirt.com Strawberry Dash Provisional: Austin Hubbard
Optima Batteries Hard Charger of the Race: Devin Moran (Advanced 8 Positions)
Midwest Sheet Metal Spoiler Challenge Point Leader: Earl Pearson Jr.
Allstar Performance Power Move of the Race: Jimmy Owens
Sunoco Race for Gas Highest Finisher: Tyler Erb
Eibach Springs Rookie of the Race: n/a
COMP Cams Engine Builder of the Race: Rocket Chassis
Ohlins Shocks Chassis Builder of the Race: Durham Race Engines
Outerwears Crew Chief of the Race: Randall Edwards (Tyler Erb)
Dirty Girl Racewear Fastest Lap of the Race: Tyler Erb (Lap #1 – 15.289 seconds)
Hot Rod Processing Tough Break of the Race: Austin Hubbard
STEEL-IT Most Laps Led: Tyler Erb (30 Laps)
PFC Brakes Pole Award: Earl Pearson Jr.
Time of Race: 10 minutes 49 seconds
---
Submitted By: Jeremy Shields
Back to News