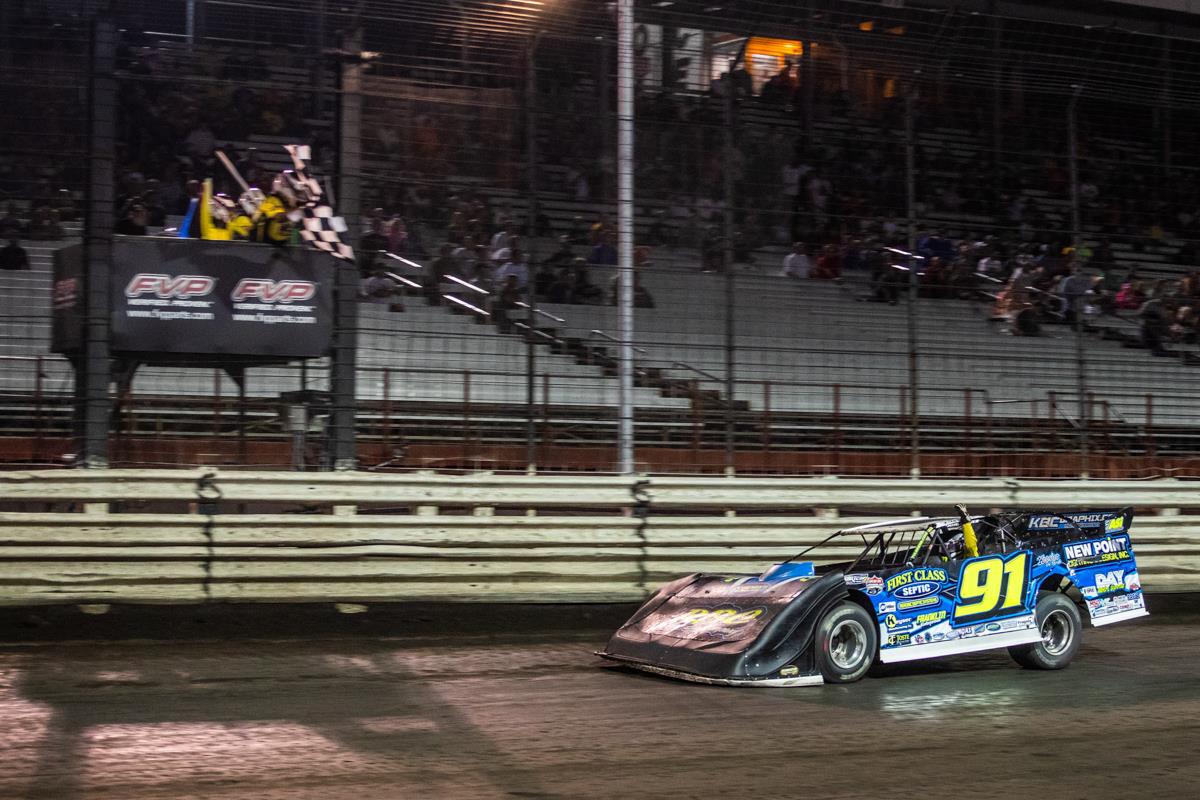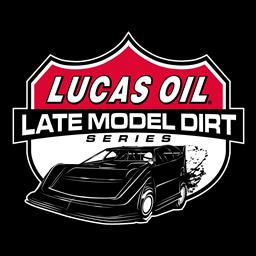 9/13/2018
Lucas Oil Late Model Dirt Series
---
Tyler Erb Triumphs at Knoxville
KNOXVILLE, IOWA (September 13, 2018) – Tyler Erb scored his first career Lucas Oil Late Model Dirt Series win on Thursday night at Knoxville Raceway.
The 21-year-old Texan took the lead from Mason Zeigler with eight laps to go to become the eighteenth different winner on the series tour in 2018. Earl Pearson Jr. passed Chad Simpson on the final lap to finish in second. Jimmy Owens finished in fourth followed by Frank Heckenast Jr.
Zeigler, who leads the Lucas Oil Rookie of the Year chase, led the first sixteen laps of the race until he jumped the cushion in turn four, leaving the door open for Erb to take the top spot. Erb then pulled away to take the victory in night number one of the 15th Annual Lucas Oil Late Model Knoxville Nationals presented by Casey's General Store.
An emotional Erb in Lucas Oil Victory Lane thanked a multitude of people for sticking with him this year. "Thanks to everyone who helps me. It's been a long year and a lot of stuff has happened. Thanks to Wayne Childress and Steven Roberts. It feels like I have been racing forever and it has not been that long. This is the sweetest feeling I have ever had in my life."
"I was pretty good there. I had a good run going on him [Zeigler] and I hit that burm in two. Once he [Zeigler] jumped the cushion I figured I had better go, it might have been my only shot. Words cannot even describe how I feel right now."
Pearson slid in front of Chad Simpson off the final turn to finish runner-up to Erb. "That's all my fault, Chad and I are real good friends. I miscalculated there on the slide job. I hit the black and just slid up in front of him. My apologizes to him and I am just glad it didn't take out both of us. I don't drive that way and like I said it was just a miscalculation on my part. I was riding around the top. We were not very good on the bottom. That last caution definitely helped us starting on the outside."
Simpson, the current Lucas Oil MLRA points leader finished third. "We had a really good race car. I think early in the race when I was trying to take the lead I used up my right rear tire too much. There late in the race I was just kind of wheel spinning with it. I am sure it is all shredded up really good. It was a good night for us and a good finish. It should be a good point night for us."
Erb's Rocket Chassis is powered by a Clements Racing Engine and sponsored by: First Class Septic Systems, New Point Lighting and Design, Day Motorsports, KBC Graphics.com, Franklin Enterprises, Keyser Manufacturing, Toste Construction and Roberts Bee Company.
Completing the top ten were Scott Bloomquist, Brandon Sheppard, Chase Junghans, Chris Simpson and Mason Zeigler.
Lucas Oil Late Model Dirt Series
Race Summary
Thursday, September 13, 2018
15th Annual Lucas Oil Late Model Knoxville Nationals – presented by Casey's General Stores
Knoxville Raceway – Knoxville, IA
Miller Welders Time Trials
Fast Time Group A: Brandon Sheppard / 17.739 seconds
Fast Time Group B: Scott Bloomquist / 17.231 seconds (overall)
Eibach Springs Heat Race #1 Finish (12 Laps, Top 3 Transfer): Jesse Stovall, Jeremiah Hurst, Mason Zeigler, Tim McCreadie, Brandon Sheppard, Josh Richards, Tyler Bruening, Spencer Diercks, Brent Larson, Jonathan Brauns
FK Rod Ends Heat Race #2 Finish (12 Laps, Top 3 Transfer): Chase Junghans, Chris Simpson, Jimmy Mars, Mike Mataragas, Don O'Neal, Jake Neal, Dennis Erb, Jr., Justin Zeitner, Billy Moyer, Junior Coover
Simpson Performance Products Heat Race #3 Finish (12 Laps, Top 3 Transfer): Dave Eckrich, Frank Heckenast, Jr., Earl Pearson, Jr., Matt Furman, Darrell Lanigan, Chris Spieker, Jason Feger, Austin Rettig, Joel Callahan
QA1 Heat Race #4 Finish (12 Laps, Top 3 Transfer): Bobby Pierce, Scott Bloomquist, Tyler Erb, Brandon Overton, Rob Toland, Joey Moriarty, Mike Fryer, JC Wyman, Zach McMillan, Al Humphrey
Lucas Oil Heat Race #5 Finish (12 Laps, Top 3 Transfer): Brian Birkhofer, Shane Clanton, , Jimmy Owens, Gregg Satterlee, Kyle Bronson, Brian Shirley, Scott James, Jay Johnson, Justin Duty
Casey's General Store Heat Race #6 Finish (12 Laps, Top 3 Transfer): Jared Landers, Jonathan Davenport, Chad Simpson, Shannon Babb, Nick Marolf, Morgan Bagley, Ricky Thornton Jr., Scott Ward, Lyle Zanker
FAST Shafts C-Main Finish (12 Laps, Top 4 Transfer to B-Main): Tyler Bruening, Ricky Thornton Jr., Scott James , Dennis Erb, Jr., Jason Feger, Scott Ward, Spencer Diercks, Justin Duty, Justin Zeitner, Zach McMillan, Austin Rettig, Jay Johnson, Brent Larson, Jonathan Brauns, Joel Callahan, Lyle Zanker, Al Humphrey, Mike Fryer, Junior Coover, JC Wyman, Billy Moyer
Penske Racing Shocks B-Main Finish (15 Laps, Top 6 Transfer to A-Main): Brandon Sheppard, Kyle Bronson, Shannon Babb, Brandon Overton, Josh Richards, Don O'Neal, Darrell Lanigan, Brian Shirley, Joey Moriarty, Tim McCreadie, Jake Neal, Gregg Satterlee, Ricky Thornton Jr., Matt Furman, Chris Spieker, Rob Toland, Mike Mataragas, Nick Marolf, Scott James , Morgan Bagley, Dennis Erb, Jr., Tyler Bruening
Lucas Oil Feature Finish (25 Laps):
FINISH START CAR # DRIVER NAME HOMETOWN EARNINGS
1 2 91 Tyler Erb New Waverly, TX $7,000
2 7 1 Earl Pearson, Jr. Jacksonville, FL $4,000
3 4 25s Chad Simpson Mt. Vernon, IA $3,000
4 10 20 Jimmy Owens Newport, TN $2,000
5 3 99JR Frank Heckenast, Jr. Frankfort, IL $1,500
6 8 0 Scott Bloomquist Mooresburg, TN $1,000
7 19 1S Brandon Sheppard New Berlin, IL $900
8 11 18J Chase Junghans Manhattan, KS $800
9 5 32S Chris Simpson Oxford, IA $700
10 1 25Z Mason Zeigler ® Chalk Hill, PA $600
11 14 30 Brian Birkhofer Muscatine, IA $580
12 22 76 Brandon Overton Evans, GA $560
13 16 49 Jonathan Davenport Blairsville, GA $540
14 15 28m Jimmy Mars Menomonie, WI $520
15 24 5 Don O'Neal Martinsville, IN $500
16 6 25C Shane Clanton Zebulon, GA $490
17 23 1R Josh Richards Shinnston, WV $480
18 21 18 Shannon Babb Mowequa, IL $470
19 17 58 Dave Eckrich Oxford, IA $460
20 18 1777 Jared Landers Batesville, AR $450
21 12 32 Bobby Pierce Oakwood, IL $440
22 9 00s Jesse Stovall Billings, MO $430
23 20 40B Kyle Bronson ® Brandon, FL $410
24 13 58H Jeremiah Hurst Dubuque, IA $400
Race Statistics
Entrants: 57
Lap Leaders: Mason Zeigler (Laps 1 - 16); Tyler Erb (17 - 25)
Wrisco Feature Winner: Tyler Erb
Margin of Victory: 2.244 seconds
Cautions: Jeremiah Hurst (Lap 3), Kyle Bronson (Lap 8), Bobby Pierce (Lap 18)
Optima Batteries Hard Charger of the Race: Brandon Sheppard (Advanced 12 Positions)
Midwest Sheet Metal Spoiler Challenge Point Leader: Jonathan Davenport
Allstar Performance Power Move of the Race: Brandon Overton
Sunoco Race for Gas Highest Finisher: Earl Pearson Jr.
Hot Rod Processing Rookie of the Race: Mason Zeigler
COMP Cams Engine Builder of the Race: Clements Racing Engines
Ohlins Shocks Chassis Builder of the Race: Rocket Chassis
Outerwears Crew Chief of the Race: Garrett Alberson (Earl Pearson Jr.
Fastest Lap of the Race: Shane Clanton (Lap #15 – 18.823 seconds)
STEEL-IT Most Laps Led: Mason Zeigler (16 Laps)
Dirty Girl Racewear Farthest Traveler: Justin Duty
PFC Brakes Pole Award: Mason Zeigler
Time of Race: 18 minutes 14 seconds
---
Submitted By: Jeremy Shields
Back to News